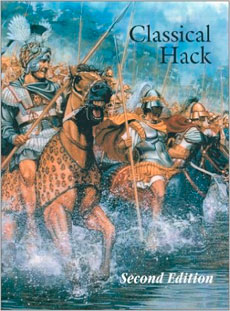 ---
Author: Philip J. Viverito
Copyright: January 12, 2002
Page count: 38
ISBN-10: 188958407X
ISBN-13: 978-1889584072
Retail Price: $24.00 USD
Buy Now!

Classical Hack: Second Edition
As the cover implies through its depiction of Alexander crossing the Granicus river (compliments of Peter Connolly, F.A.S.), Classical Hack Ancient Warfare: 600 B.C. To 600 A.D., Second Edition is a gaming system set in the ancient period. The system is designed to be played on a table-top with miniature figures and ten-sided dice (not included). The 42-page book is about the size of a commercial magazine and is generously illustrated with diagrams and charts. Classical Hack was originally released as a multi-volume set, written and designed through the collaboration of Philip J. Viverito, Ed Backer, and Richard Kohlbacher. Philip J. Viverito edited and redesigned those original texts into a single volume. LMW Works is proud to feature this second edition at all major East Coast gaming conventions and many West Coast and Eastern Canadian conventions.

Much of the care that has gone into creating this second edition has been focused on incorporating historical fact into the rules; a feature that is often glossed over or completely overlooked in other gaming systems. Throughout the course of play, gamers can achieve historically authentic battlefield results without sacrificing any of the fun that goes along with miniature gaming.

Classical Hack Ancient Warfare: 600 B.C. To 600 A.D., Second Edition is fast-paced and simple to play. To help the neophyte gamer, this second edition has been updated with "Special Add-on Tactics" and "Army List" sections. These additions, as well as other streamlining revisions, have proven so effective in live play that first-time Classical Hackers often master the game by the third move! Aside from the optional unit markers there is no tedious record keeping required, which keeps the game moving as fast as a cavalry charge. Other rules, though easy to comprehend for the inexperienced gamer, should be standard operating procedure for experienced players. The official Classical Hack website features sections explain the various nuances of the system. Visit us at www.classicalhack.com for more details.

This second edition approaches historical gaming in a non-tournament way. This does not mean the system cannot be used in tournament play, only that it is flexible enough to use in a variety of circumstances. For instance, teachers and parents seeking an interesting way to develop their student's problem solving skills, reading comprehension, math skills and the practical application of statistics will find Classical Hack Ancient Warfare: 600 B.C. To 600 A.D., Second Edition to be an invaluable teaching aide.

With every new edition there comes a period of testing and review. Though future releases may include rule clarifications, we are confident that fundamental rules structure in this second edition will remain intact. We have, however, supplemented Classical Hack Ancient Warfare: 600 B.C. To 600 A.D., Second Edition with the following titles in order to broaden the scope of our historical gaming systems:


Happy Hacking!
If you like Classical Hack...
Hack in the Dark
Hack in the Dark takes miniature gamers back to the Dark Ages. It is the job of the player to utilize all the tactics and weapons of the period to either defend civilization or to bring it down.
Scenarios Rome
Each Scenario gives a brief account of a specific battle, including the opposition's battle orders, special tactics used by both armies and victory conditions.